culture shock
Our happy little family
sorry this pic is so bad! :)
Culture Shock was thought up over a conversation about dreams--quite some time ago! This is the Culture Shock family (from left to right) Matt, Toaster Strudel, Amy,Stephanie, and Pop Tart. It all started in our kitchen, and it is still a mess to this day from all the wax spills! We moved from home to the local Flea Market, to our store in the heart of Sanford's antique district. Toaster and Pop Tart aren't as big into it as they used to be, but as you can tell by Toaster's nose, he still "nose" what's goin' on. A few months ago, we hired on Miss Amy--and she has become an indespensible part of our family.
Our goal here at Shock is to make QUALITY, UNIQUE, HANDMADE CANDLES. We feel that the key to any successful business is the people who are involved--from the work we put in to the people who keep coming back. It is our policy to correct any problem--so please let us know if you EVER need us!
Thank you for taking the time to make Culture Shock a part of your day!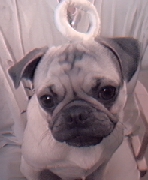 View our Customer Comments on Ebay
Back to the Store