culture shock
Candles. Incense. Gifts.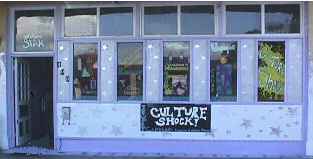 click on store to enter!
Welcome to Culture Shock!
What you'll find on this site is a great selection of quality HANDMADE (and very unique) candles. We make the candles right here in our store and ship them to you. What this means is that you will get to select the shapes, colors, and scents of all your candles! We also carry a wonderful line of hand-dipped (uncut--absolutely No Alcohol) incense, all natural powdered incense, popular floating candles, handmade gift soaps, bath gel and body lotion--as well as handmade runes, drawstring pouches, scented oils, and tarot. Feel free to email us with any questions you may have regarding our products by clicking on the envelop below! Check back with us often, we are always adding new scents and shapes!!!
2218 Stonington Ave
Orlando, FL
(407) 737-7915


FastCounter by bcentral
This
Craft & Hobby Webring site owned by Stephanie Farrer.
[Previous 5 Sites | Skip Previous | Previous | Next|Skip Next|Next 5 Sites|Random Site|List Sites]
candles bath & body lotions soaps incense ceramic burners chunk candles homemade scented oils container candles jars tarot runes
Copywright 1999. All Rights Reserved.
This All about candles site owned by Stephanie Farrer.
[ Previous 5 Sites | Previous | Next | Next 5 Sites | Random Site | List Sites ] JOIN RING